---
Clutter Evolution: Beyond Xtreme
The Best Clutter Yet
Over 1700 Incredible Levels
#1 on Game House, iWin & Game Fools
---
"You know what you'll get with each Clutter game. It's always the same, yet each game is always different. That's the magic of the Clutter series."
***** "Hideously Addictive" ***** "Best Game Ever" ***** "Can't Stop Playing" *****
---More Info---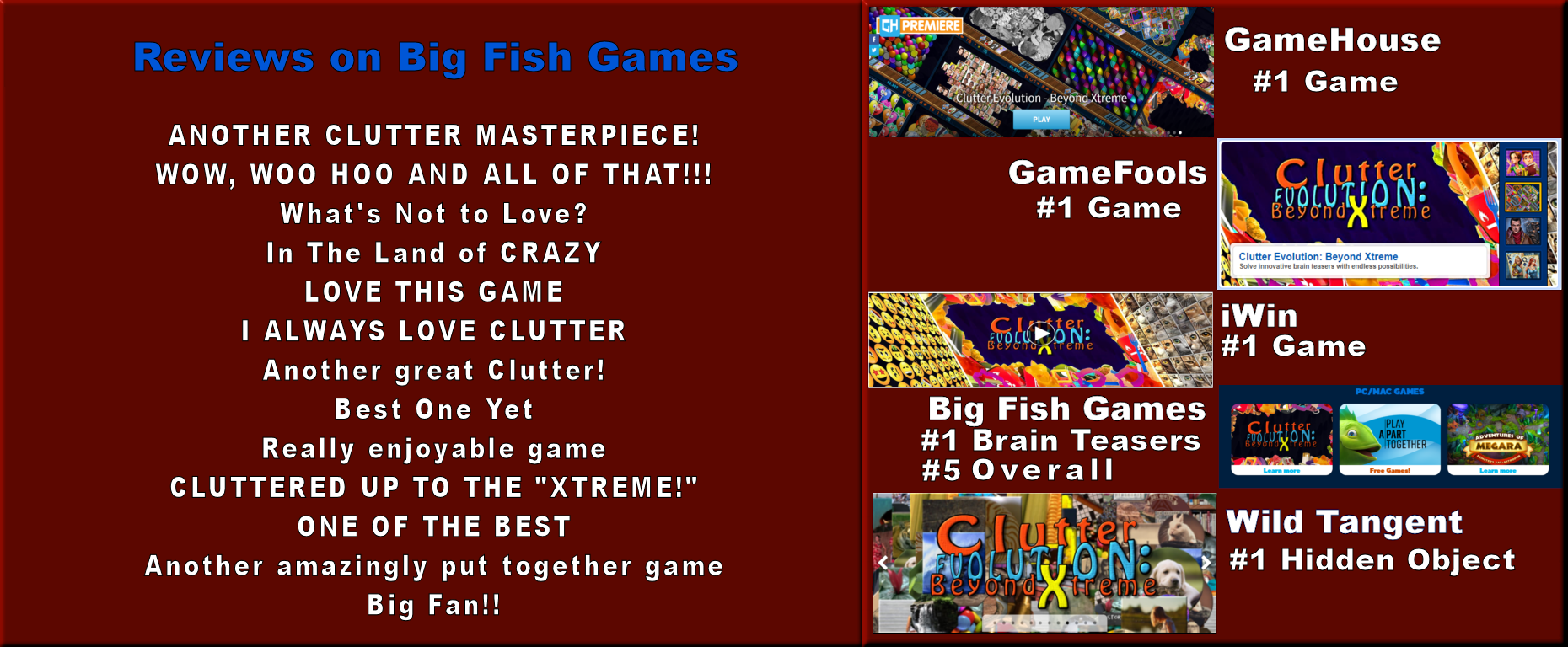 Clutter Evolution only runs on PCs & older Macs.
It will not download on Macs with the Catalina OS.
It does not run on iPads, iPhones, Androids, Linux or Chromebooks.
(Windows Defender will warn about downloading my games because I use a self-extracting exe.
Please don't buy the game if this bothers you. You can still tell Windows Defender to go ahead and download it anyway and then you can run it by choosing "more info" and telling it to run anyway.)
---More Info/Purchase Page ---



Clutter Evolution
Theme Music
By Mike Sal



Clutter Evolution
Theme Music
By Mike Sal
Clutter IX:
Clutter IXtreme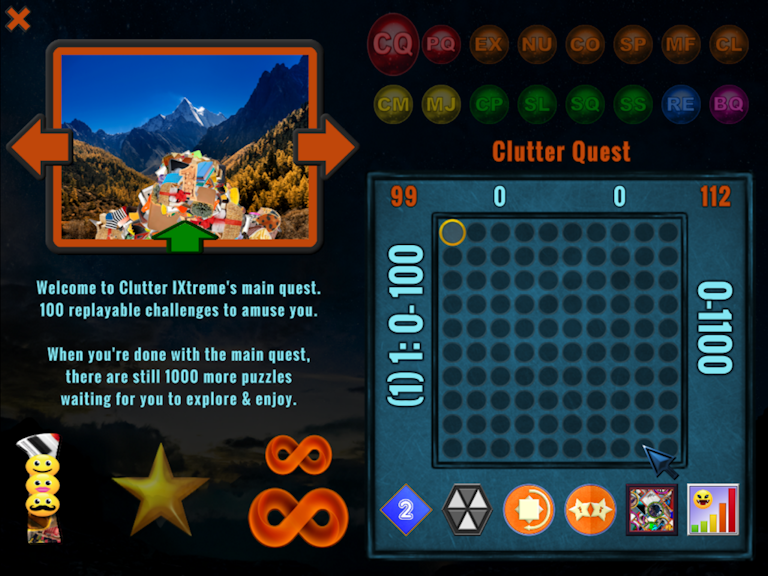 Joe the Clutter master makes his return.
"I love Clutter and I have spent hours playing and replaying all of the Clutter games that I've purchased over the years because no others are quite as good. What a New Year's Eve treat this is for me!"
1100 puzzles.
Extreme versions + a new Rack'Em
More Object Collections.
Help Text and another Picture Story.
---More Info/Purchase Page ---
Clutter 1000
(1000 Puzzle Levels)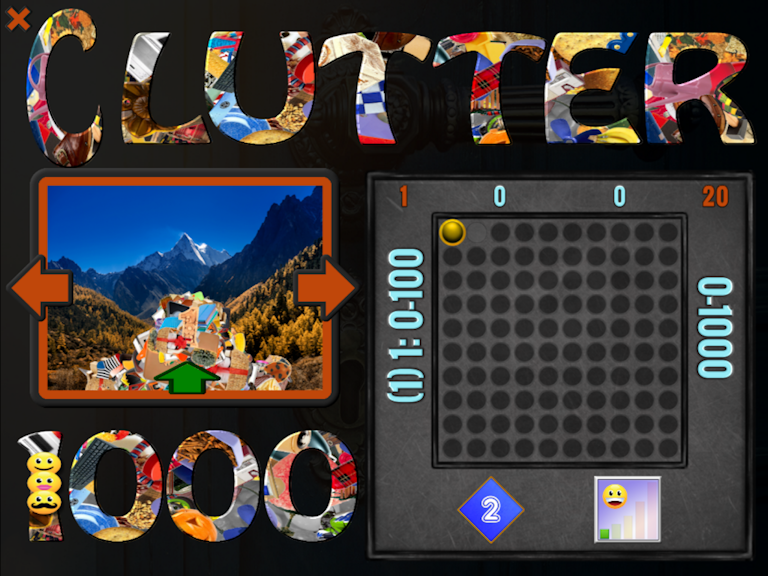 Joe has outdone himself again.
"It's one of the best games so far! All of my favorites are still there, plus some new challenges as well. Thank you Joe, the wait was worth it!I I love all the background music and actually found myself bouncing in my chair to the beat."
1000 puzzles.
Smiley, Mah Jong, Icons
All New Objects.
No Text, but as Story in Pictures.
---More Info/Purchase Page ---
Clutter Infinity:
Joe's Ultimate Quest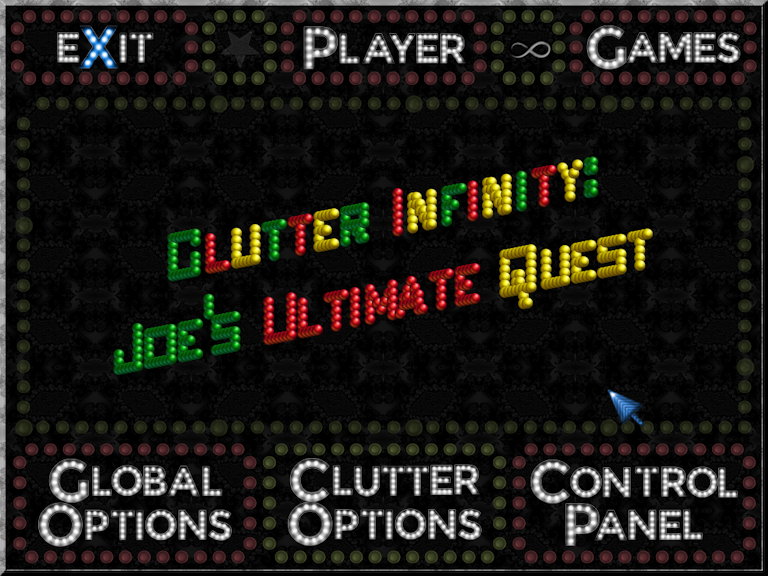 Best Clutter Ever!!!
"I really like this version. I like the option of keep playing after the time is up. I love the new puzzle with 70 or so squares that have to be matched. I'll probably go blind playing this but I am hooked! Best Clutter Ever!!!"
875 puzzles.
Colorized, Inside Out, Clutter Pics.
More Chaos, HV-Splits, 3-Way-Splits.
How did Joe become the Clutter guy?
---More Info/Purchase Page ---
Clutter VI:
Leigh's Story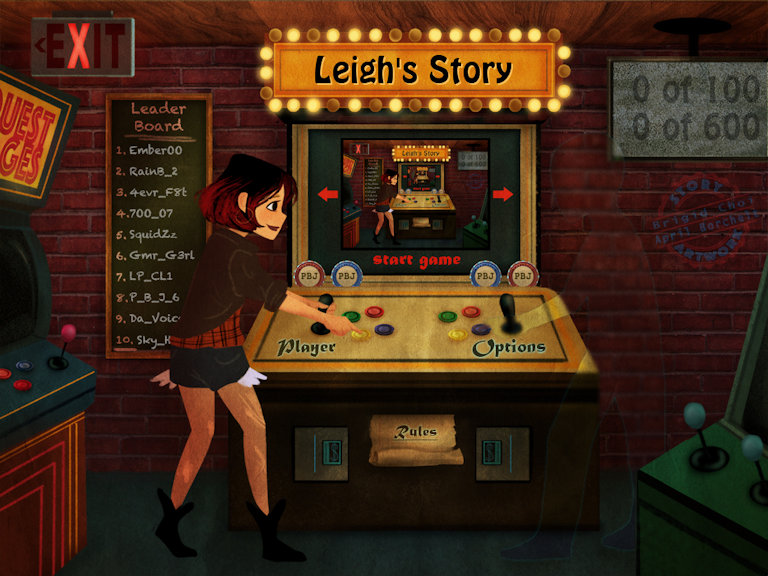 Clutter Awesomeness: Even Better
"I love all the Clutters anyway, and the addition of new interesting artwork and music have really added something great to the game. The story line premise is hilarious if you are a fan of the series, but you won't get lost if you didn't delve into previous versions."
600 puzzles.
Chaos, 3s & 2s, Head To Head.
Rotation Challenge, Take 1 Leave 1.
An actual Story with Cut Scenes!!!
---More Info/Purchase Page ---
Clutter V:
Welcome To Clutterville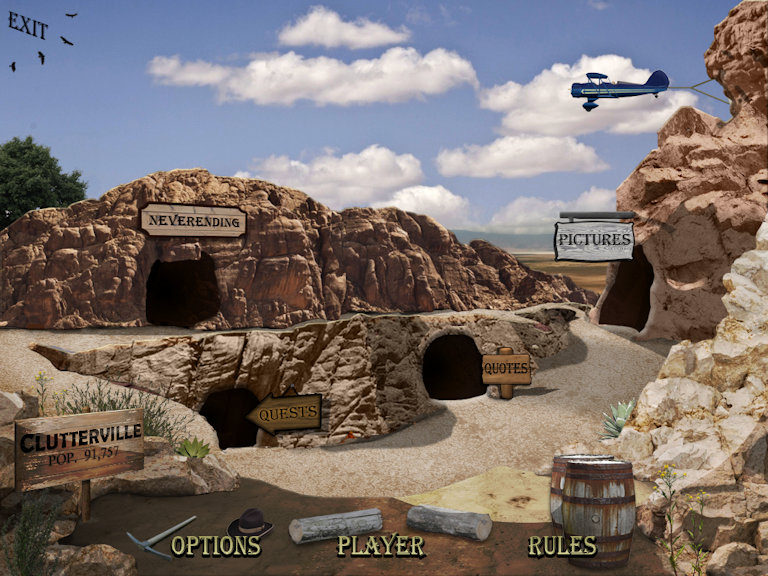 Clutter Strikes Again
"Thank you! While I love my "regular" HO games, the Clutter series can be played over and over and it is never the same game twice. The new version has lots of new items. WOW, the similar objects in the split section really adds to the challenge. Another winner!"
Over 500 puzzles.
NeverEnding, Close Counts, Blockers.
Sliders, Quotes & more.
Will this be the final Clutter?
---More Info/Purchase Page ---
Clutter IV:
Minigame Madness Tour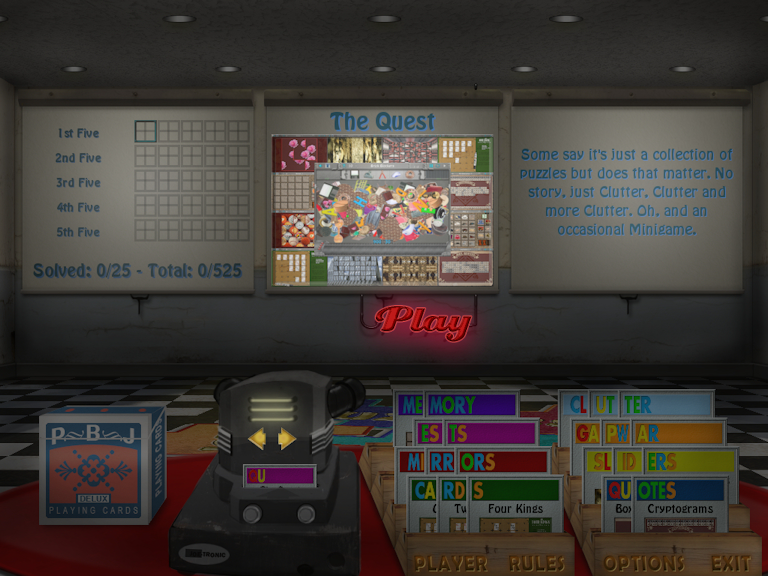 Fun, Fun, Fun!!!
"I rarely buy a game this fast but loved the fact that it is completely different from many other games. It has so many different styles of games and you can skip around and play the ones you enjoy most. I prefer not being timed and it can be played either way."
Over 500 puzzles.
Multiple Quests, Lines, Harder.
Cards, Quotes, Mirrors, GapWar(s).
A study of opposites.
---More Info/Purchase Page ---
Clutter III:
Who is the Void?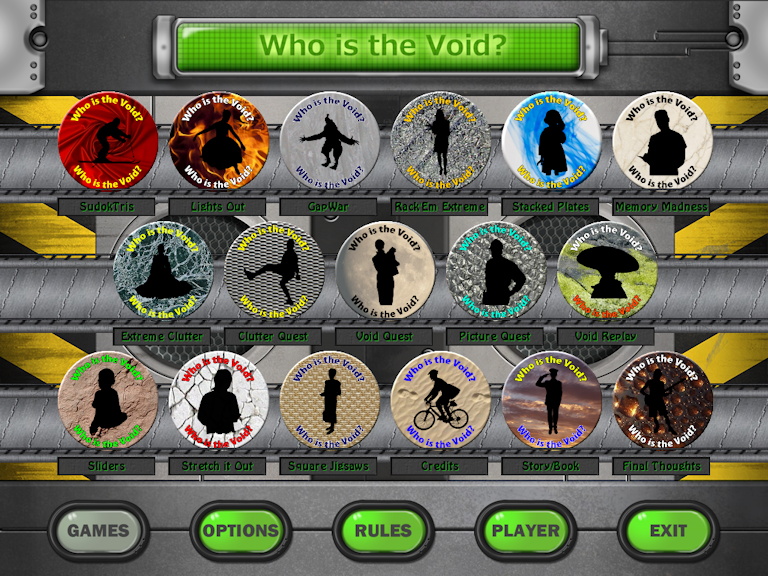 Extremely Addictive
"If you are a puzzle person like myself and a fan of Hidden object scenes that will absolutely blow your mind, this is the game for you. I am embarrassed to say I have not played any of the previous Clutter games but will now definitely be looking them up."
Over 300 puzzles.
Void Blockers, Extreme Clutter, Mirrors.
SudokTris, Lights Out, Stacked Plates.
All about the Void & Game Dev.
---More Info/Purchase Page ---
Clutter II:
He Said, She Said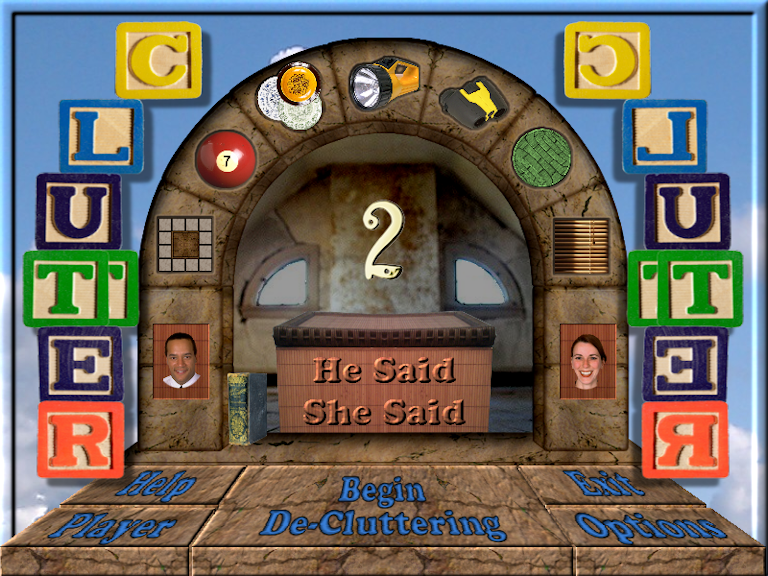 Bring on Clutter 3, 4, and 5!!!
"Joe, you did it again!. Heard this was around the corner and was so glad when I ran into it this morning. Purchased immediately. Love the change ups, quips, quotes, and Mars/Venus chats. Love the blue pointer. It went ahead and made my day!"
Over 250 puzzles.
Dragging, Close Counts, and Stockpiles.
Plates, Rack'Em, Memory II and Fifteen.
Leon and Ana chat about eveything.
---More Info/Purchase Page ---
Clutter: The Original
Un-Hidden Object Game.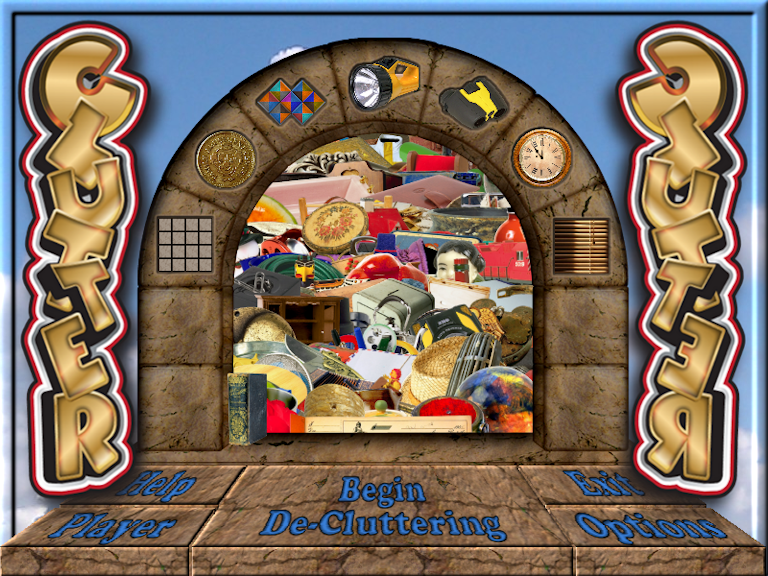 Refreshing Change, Amazing Variety!!!
"Sick of those Dark & Dreary HOGs then this game's for you. A game you can pick up at any time , lot of repeat play too. Good for the brain cells and more to it than just finding two objects or three that match. Amazing variety in just this one game."
Over 250 puzzles.
2s, 3s, Splits, B&W, Pop-Ups & more.
Sliders, GapWar, Memory and The Clock.
Come see where Leon started it all.
---More Info/Purchase Page ---
The original un-hidden object game
I wrote Clutter to make a replayable game that appeals to the Hidden Object Game fans, without it being a typical Hidden Object Game. I've done my best to make every level replayable, and I'll warn you now that many people find the game quite addicting.
There are now 10 Clutter Games and no two are alike.

Just reading this far, I'll give you your very first Clutter experience for free.

Just email me at JoeCassavaugh@aol.com and I'll send you your first Clutter game for free. Just put "Clutter Please - PC" or "Clutter Please-Mac" in the Subject Line, and I'll send you a download link to the very first Clutter game. I'll warn you again though - many people play these games every single day, and addicting is the most common word I hear from my players about the game. You've been warned.
Below is just a small sample of the variety you'll see in the Clutter Games where no two games are the same.