Sincerest Thanks To All Who Have
Helped Me Beta Test Clutter V!!!!!

So, here's the latest Options screen. Sharp eyed Clutter fans should be able to spot a few new options. I did this based on feedback from the excellent folks who played the Beta for me.
Most notably:
 Click Penalty (which you can now turn off entirely).

 Allow eXit from anywhere (by using the X key)

Continue where you left off (Yep, set this to bypass the Main Menu).

Remove Letters and Puzzle Pieces (only the Coins stay).

What Is This Picture Announcing?
Can Anyone Tell Me?
(Hint: How many Clutters have you played? And how many objects do you recognize?)
My lovely and talented wife Ana has recently opened a shop on etsy to sell her beautiful and unique pottery pieces. From doggie water bowls to yarn bowls to vases, utensil holders, and even cookware; there's a little something for everyone. For anyone who likes pottery, buying, making or selling it; you'll find something of interest at Ana's Clay House
i all: Welcome to all things Clutter and Puzzles By Joe related. I'm always looking for feedback on all my games, so leave a comment and say hello. Tell me which game is your favorite and why. I'll be replacing the survey soon too. The biggest change is that you can buy all 4 Clutter games directly from Puzzles By Joe. You can still buy/play them on Big Fish Games, iWin and many other places…but I wanted to make them available here as well.
I was asked how is the game delivered if you don't order a Backup CD. The game is delivered via. a Download link (specific to the that buyer). You will get an email with your order confirmation and a link to the download.
Yep, Check it out!!! A friend of mine suggested I do this, so I said "What the heck. Why not?" So, it's my very own Puzzles By Joe Gift Shop. T-Shirts, Mugs, Glasses and Baseball Caps and more. Right now, it's just the Puzzles By Joe logo, but if it seems worth it, I'll ask one of my artists to make me a "I Love My Clutter" logo as well.
All my Clutter games are sold at BigFishGames and iWin. Those both link to Clutter III. They also sell my Clutter and Clutter II: He Said, She Said games. In addition to Big Fish and iWin, my games are sold on Game House, AOL, Yahoo and many other sites.
The Cluttter games are family friendly with lots and lots of variety so that hopefully you'll find something in my games to like. The main game is an Un-Hidden Object game aimed at people who enjoy Hidden Object Games. It's one massive Hog Pile of objects and you search for two at a time that match to remove them from the pile. It sounds simple, and it's easy at first…but there are so many variations and levels of difficulty…and each level is randomly generated…that people tell me they play the game for hours and hours and hours. And then each game has many Minigames which are also replayable as well.
This is a screen shot from the original Clutter and it's an 800 x 600 screen size. Although someone said it "looks like a student project", others found it addicting for many reasons.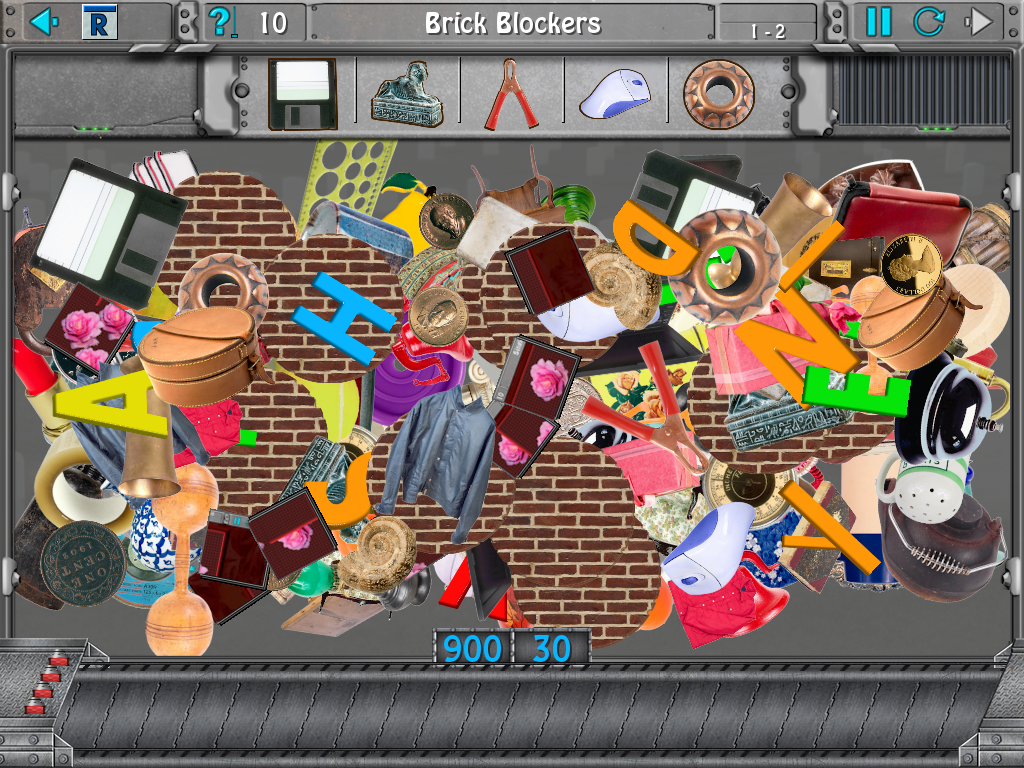 This is a screen shot from Clutter IV: Minigame Madness Tour and it's a bit more polished thanks to my Artist Dj Curtin. With Clutter III: Who is the Void?, I changed the game to be 1024 x 768 and the typical object size got bigger as well. The objects have a bit more clarity because of that.
Whether it's from me directly, or through one of the distributors, I hope you give my Clutter games a try.