Rack'Em might be the most addictive solitaire game since Free Cell and Tetris. It's a logic game where the goal of each puzzle is to position like-numbered pool balls into diagonal, horizontal, or vertical rows of three on the pool table.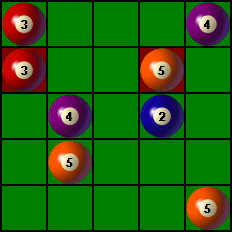 Once you've mastered Straight Pool on the easiest level (Mr. Scratch), move on to three more increasingly difficult levels (Ms. Stick, Mr. Hustler and The Shark).  With more balls and a wider board, you'll be busy for hours.  Think you've got this game mastered at The Shark level?  Then try Double Trouble and Rotation – these wild games will keep your mind busy playing hours and hours.
The registered version of Rack'Em Deluxe comes complete with over 1,000,000 different fun, mind-boggling puzzles.
Rack'Em Deluxe includes 4 levels of difficulty and 3 variations.
Straight Pool:  3 of each number to make a 3-ball set
Double Trouble: 6 of each number to make 2-3 ball sets
Rotation: Sequential (1-2-3, 2-3-4, 3-45, etc…) needed