Gapwar Deluxe: Triangle Madness is easy to learn but difficult to master – perfect if you love brainteasers and math puzzles. The object of the game is to remove gaps between playing tiles by positioning tiles so border colors on all four sides of the tiles match.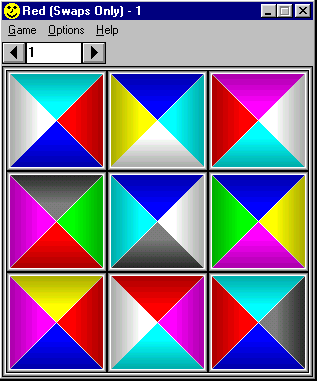 The screen shot demonstrates the Swap Only game at one of the easier levels.
Rearrange the tiles by selecting and swapping the  tiles in the Swap Only game. Once you master the basic game strategy, move on to four more increasingly difficult (and addictive) levels with more tiles and fewer colors. As the puzzles get more difficult with more playing tiles, some tiles on the board are locked down to help get you started. Think you've got this game at all five levels mastered? Then try the Rotate All, Rotate Inside and Ultimate games – these crazy games will keep your mind busy playing for hours.
Gapwar Deluxe has over 1,000,000 unique puzzles.
Gapwar Deluxe includes 5 levels of difficulty and 4 different playing styles.
Swap Only – Move tiles into position just by swapping locations
Rotate All – Swap and rotate entire tiles
Rotate Inside – Swap tiles and rotate tile inside colors for more variations
Ultimate – A crazy combination of swapping and rotating tiles of various sizes and shapes